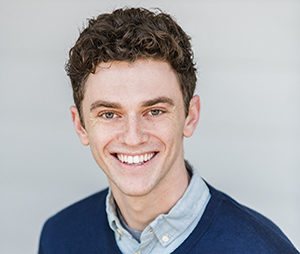 he / him / his
As grant and program assistant, Alec Sarche is responsible for reviewing and tracking grant proposals, researching prospective grantees, and maintaining and updating Gill's grant-making database.
Alec graduated from Colorado College with a degree in theater. He was awarded the Pamela Riley Prize in drama for his innovations in theatrical forms, while also working as artistic director of the student theater workshop on campus and building relationships with community institutions to bring more social justice-oriented projects to the theater.
After graduating, Alec spent two years in Los Angeles as the senior producer for Forever Dog Productions, a podcast network with a strong LGBTQ bent. While working with a staggering number of drag queens and LGBTQ comedians was rewarding in its own right, Alec found himself wanting to return to Colorado to work in the direct interests of the community he'd grown close to at university and in comedy.
Alec was born and raised in Denver and is happy to return to his roots. His non-working hours are spent with friends, family, and sometimes, if he's lucky, a dog or two.