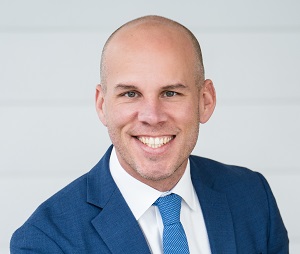 he / him / his
Brad Clark is the president & CEO at the Gill Foundation. He joined the foundation in 2015 as the vice president of partnerships and moved into the role of president & CEO in January 2018. In this role, Brad leads the foundation in executing the vision of Tim Gill and the board through prioritizing, implementing, and measuring the work and grant-making of the foundation.
Brad began his career in Iowa. His previous experience was as campaign director of One Iowa where he built a coalition of nearly 100 allied organizations representing more than 200,000 Iowans and built a grassroots infrastructure of more than 12,500 members and 33,000 identified supporters. As well as leading One Iowa's successful marriage equality campaign, Brad's accomplishments include a successful safe schools campaign. As the executive director of Iowa Safe Schools, he led a coalition of education, civil rights, labor, faith, and business leaders to help pass a comprehensive safe schools law and civil rights law to protect LGBT Iowans from discrimination.
In addition, Brad developed One Colorado as its first executive director. Under his leadership, One Colorado built a coalition of more than one million Coloradans to pass a civil unions law, launched a nationally recognized organizing project with the Colorado Immigrant Rights Coalition, passed a comprehensive anti-bullying law and helped ensure more than 150,000 students can access a gay-straight alliance, and added protections for transgender Coloradans to access health insurance.
Prior to the foundation, Brad developed the Human Rights Campaign's Project One America. He led a cross-organizational effort to dramatically expand equality and bridge the divide that exists for many LGBT Americans through a deep and lasting investment to change hearts and minds, advance enduring legal protections, and build more inclusive institutions for LGBT people from the church pew to the workplace. He led a highly collaborative program, integrating HRC's political and advocacy work, communications and membership campaigns, and HRC Foundation programs into an exciting new push for equality everywhere, for everyone.