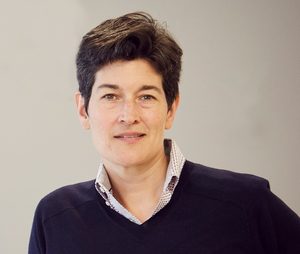 Eliza Byard, PhD, is a leading global expert on LGBTQ+ issues in K-12 education and youth development. She is a transformational leader, inspiring public speaker, and accomplished bridge-builder who has designed and implemented powerful strategies for systems-level change.
From 2008-2021 Eliza was the Executive Director of GLSEN, an organization recognized worldwide as a pioneering leader in the fight for educational equity and LGBTQ+ issues in K-12 schools. She joined GLSEN as Deputy Executive Director in 2001, and led the growth of GLSEN's public education and advocacy efforts; youth leadership development programs; professional development for educators; research and program evaluation capacity; and in-school programming. During Eliza's tenure as Executive Director, GLSEN's work spurred a significant decline in anti-LGBTQ+ harassment and violence in U.S. schools, and established a new professional norm of support for LGBTQ youth among educators, school administrators, and school staff in the United States.
In 2009-2010, Eliza designed GLSEN's international research initiative in partnership with UNESCO, providing new access to decision-making tables at the UN and the World Bank for LGBTQ+ education advocates worldwide. GLSEN currently partners with dozens of NGOs in three global regions to develop the evidence base for advocacy and program development to improve LGBTQ+ students' lives in their respective countries. Together, GLSEN and its coalition partners advocate for the inclusion of LGBTQ+ youth in international efforts to achieve the Sustainable Development Goals for education, health, and gender equality.
As a strategist and ambassador for educational equity, youth development and LGBTQ+ equality, Eliza has brought people from disparate communities and politics together to forge common cause, and secured tens of millions of dollars from diverse individual, corporate, and institutional funders for transformative programs, advocacy, and public education. She has been a featured speaker at hundreds of conferences and events, including appearances at the White House, the U.S. Department of Education, International Literacy Association, Harvard Medical School, Harvard Law school, the National School Boards Association, the Central Intelligence Agency, the Department of the Interior, and the Parliament of the European Union. Eliza was the only LGBTQ+ movement leader selected to speak at the Martin Luther King Center's Celebration of the 50th Anniversary of the March on Washington, where she addressed tens of thousands of people from the steps of the Lincoln Memorial.
Eliza has served as a trusted advisor to a broad range of institutions and organizations, including CDC-DASH, the U.S. Department of Education, the National Parks Service, UNESCO, the World Bank, Target, and Sodexo. She is currently on the boards of the Gill Foundation and CoQual, and the Board of Trustees of the America's Promise Alliance.