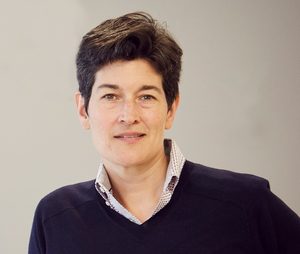 Eliza Byard was elected to the Gill Foundation's board of directors in January 2018. A mission-driven executive and leader for social justice and systemic change, Byard has designed and executed strategic initiatives that have transformed K-12 education in the United States to respond to the unique challenges and needs of lesbian, gay, bisexual, and transgender (LGBT) youth.
Byard currently serves as the executive director of GLSEN, an organization recognized worldwide as an innovative leader in the fight for equity for LGBT students in K-12 schools. Byard joined GLSEN as deputy executive director in 2001, and led the growth of GLSEN's public education and advocacy efforts; youth leadership development programs; professional development for educators; research and program evaluation capacity; and in-school programming. GLSEN's initiatives have contributed to a significant decrease in anti-LGBT harassment and violence in schools since 2000, and the organization's advocacy and legislative strategies have won bipartisan support and widespread acceptance of the urgency and importance of bullying prevention and LGBT issues in education. Under Byard's leadership, GLSEN was honored by President Obama as a "Champion of Change" and named a Top National Non-Profit for its impact on LGBT equality.
As an expert on education, youth development, and LGBT issues, Byard appears in a broad range of digital, print, and broadcast outlets, including The Washington Post, The New York Times, POLITICO, Education Week, Newsweek, "AC360," CNN, ABC World News, Fox News, MSNBC, "CBS This Morning," "ABC 20/20," and NPR. She has served on numerous boards and commissions for LGBT youth and educational equity and is currently a trustee of the America's Promise Alliance.
Byard holds a PhD in United States history from Columbia University and a Bachelor of Art in history from Yale University and has taught U.S. history and American studies at Columbia and Barnard.
She lives in New York City with her wife and their two children.