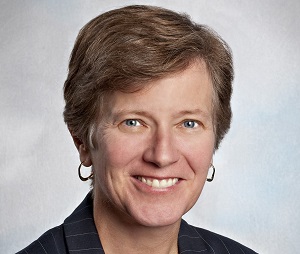 Mary L. Bonauto was elected to the Gill Foundation's board of directors in August 2016. A longtime LGBT activist, Bonauto has served as the civil rights project director at GLBTQ Legal Advocates & Defenders (GLAD) since 1990. She has litigated in the state and federal courts of New England on discrimination issues, parental rights, free speech and religious liberty, and relationship recognition. In 2015, she successfully argued before the U.S. Supreme Court in the historic case Obergefell v. Hodges, establishing the freedom to marry for same-sex couples nationwide.
Bonauto and two Vermont co-counsel won a 1999 ruling in Baker v. State of Vermont, which led to the nation's first civil union law. She was lead counsel in the groundbreaking case Goodridge v. Department of Public Health, which made Massachusetts the first state where same-sex couples could legally marry in 2004. She was also co-counsel in Kerrigan v. Department of Public Health, in which the Connecticut Supreme Court also ruled for marriage; advocated in state legislatures for marriage; and, served on the executive committee of the 2009 and 2012 Maine ballot campaigns.
Bonauto led GLAD's federal court challenges to the Defense of Marriage Act (DOMA) in Gill v. OPM and Pedersen v. OPM, leading to the first federal court rulings against DOMA, and then coordinated amici briefs for the Windsor case at the Supreme Court. As a member of the legal team in the Michigan marriage case DeBoer v. Snyder, she became the Supreme Court oralist on behalf of the plaintiffs in Obergefell.
Bonauto's work has been recognized with numerous awards, including the 2014 MacArthur Fellowship. She is the Shikes Fellow in Civil Liberties and Civil Rights and Lecturer on Law at Harvard Law School, serves on an advisory board for the American Constitution Society, and has also served as co-chair of the Sexual Orientation and Gender Identity Committee of the American Bar Association's Section on Individual Rights and Responsibilities. Bonauto graduated from Hamilton College and Northeastern University School of Law.
She lives in Maine with her partner and their twin daughters.