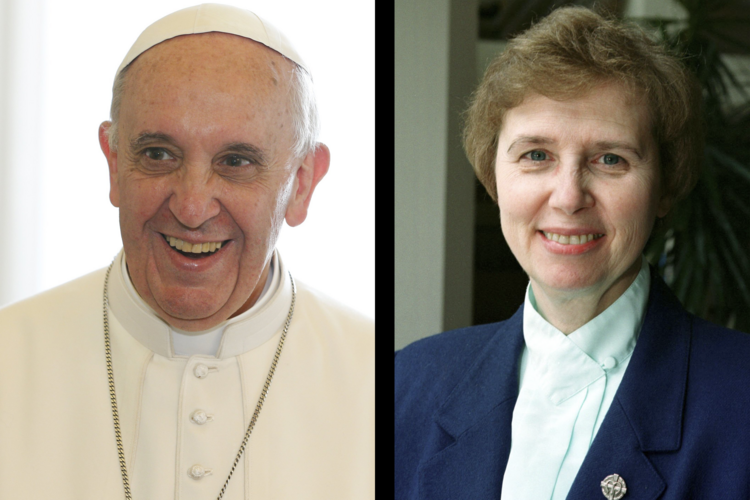 Celebrating Sister Jeannine Gramick's 50 Years of LGBTQ Ministry
For 50 years, Sister Jeannine Gramick has been building bridges between LGBTQ people and the Roman Catholic Church. In recognition of her work, Pope Francis recently sent the co-founder of New Ways Ministry, a Gill Foundation grantee, a handwritten letter, thanking her for her work on behalf of LGBTQ Catholics:
"God has his own style to communicate with us. And we could summarize that style in three words: closeness, compassion, tenderness.

"And I am thinking of your 50 years of ministry, which were 50 years with this 'style of God,' 50 years of closeness, of compassion, and of tenderness.

"You have not been afraid of 'closeness,' and in getting close you did it 'suffering with' [compassion] and without condemning anyone, but with the 'tenderness' of a sister and a mother."
Sister Gramick is a pioneer in the LGBTQ movement. In the early 1970s, while in graduate school at the University of Pennsylvania, she started working with LGBTQ Catholics and organized priests to hold private Masses for LGBTQ Catholics. One of the attendees inspired Sister Gramick to do more, and, with the support of her spiritual order, she co-founded New Ways Ministry with the late Father Robert Nugent.
"I have always been interested in people and social justice. The two came together for me 50 years ago as I listened to the stories of rejection that LGBTQ people experienced," Sister Gramick told the Gill Foundation.
This ministry hasn't always been easy for Sister Gramick. In fact, in the 1990s, the Congregation for the Doctrine of the Faith at the Vatican, formerly known as the Inquisition, investigated her, Fr. Nugent, and their ministry. After an outpouring of support from Catholics, the Vatican decided not to sanction her — but the Vatican did pressure her community to urge her to abandon her ministry to LGBTQ people. After a period of reflection, Sister Gramick decided to leave her order, and she soon found a home with the Sisters of Loretto, who continue to encourage and support her ministry to LGBTQ Catholics.
Sister Gramick's work has undeniably shaped how Catholics view LGBTQ people. Her decades of ministry – including teaching, writing, and advocacy – have helped educate countless Catholics in the United States and around the world about the importance of LGBTQ inclusion. Today, 70% of Catholics support same-sex marriage and nondiscrimination protections for LGBTQ people. While these numbers are inspiring, a small but powerful contingent of Catholic leaders are standing in the way of LGBTQ equality – in direct opposition to Catholic Church teachings. In 2021, New Ways Ministry responded to this vocal minority with its report, "A Home for All: A Catholic Call for LGBTQ Non-Discrimination." The 2,285-word document – signed by more than 250 of the nation's leading Catholic theologians, Church leaders, scholars, and writers – makes the Catholic case for LGBTQ inclusion, stating that Catholic social teachings "provide a clear basis to support nondiscrimination protections for LGBTQ people, as the Catechism of the Catholic Church demands." Sister Gramick and New Ways Ministry have shared the document with Church leaders, decision-makers, and lay people across the country to help educate them about the need for LGBTQ inclusion and nondiscrimination protections.
"I pray that we will listen to what others have suffered; only then can we become a truly just and human family," Sister Gramick added.
While there is still much work to be done before LGBTQ Americans are fully protected from discrimination, we know we wouldn't be where we are today without leaders like Sister Gramick and New Ways Ministry.