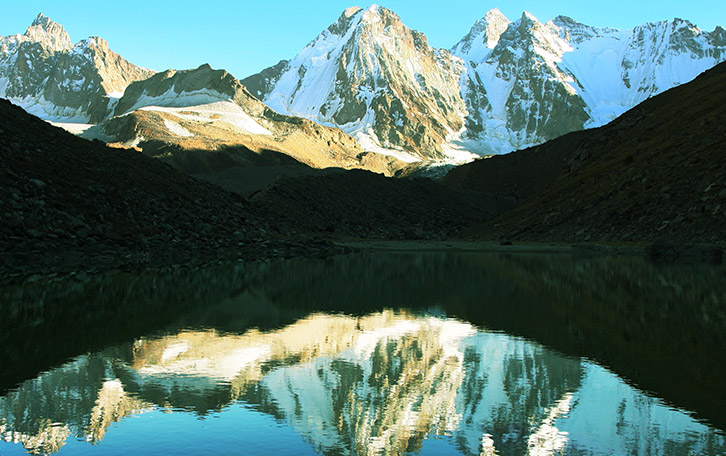 Since Tim Gill created the Gill Foundation in 1994, the goal has been unwavering: full equality for LGBTQ Americans. The journey to that destination has had its ups and downs. It's no secret that 2021 was a difficult year. It seemed like for every ray of light, there was a shadow or two ready to take its place – but we took every failure as an opportunity to learn and every success as an opportunity to build momentum. As last year drew to a close, our programs and leadership staff offered their reflections on 2021 and outlook for the year to come.
Denise Whinnen, Director of Colorado Programs:
Coloradans continue to demonstrate a resilient spirit and generous hearts. The COVID-19 pandemic caused waves of closures, fear, anger, despair, and loss. But as vaccines and boosters became available to anyone in Colorado who wanted one, the state began to right itself. Isolation gave way to family reunions, live performances, and a rebounding economy. Two historic federal bills gave Coloradans a chance to dig out of an economic hole, and children returned to schools and the warm embrace of teachers and friends. The challenges aren't over. There is much work to do in 2022 to return society to civil debate, support children in making up for lost time, and help Coloradans thrive. But Colorado remains buoyant. Colorado Gives Day recorded the largest day of donations yet – more than $54 million. We are a bootstrap state where we demonstrate our grit and determination in the face of adversity. And while we fiercely prize our spirit of Western independence, when times get tough, we will pull together to help our neighbors, support our children, care for our elders, and build communities that provide an opportunity to flourish. Despite it all, hope endures.
Brad Clark, President & CEO:
I am inspired by the courage of our community. As opponents of equality continue their attacks on LGBTQ Americans in states across the country, I'm amazed by the courageous transgender youth and parents who are showing up and sharing their stories. We know the power of a human story is our secret weapon – and the courage of these young people is incredible!
Michael Dabbs, Senior Communications Officer:
Last year, I was reminded of the power and resilience of the youth voice. In the face of rising animus and misinformation, courageous transgender young people told their stories and shared their goals and aspirations in the halls of power, on the field of play, and in their communities. With their leadership, the future is certainly bright.
Alec Sarche, Communications Associate:
During a difficult, confusing year, I found solace in the power of small-scale change. Even as we watched waves of anti-trans and anti-LGBTQ sentiment crash over state after state last year, there were still those small communities that made significant progress toward equality – banning conversion therapy, standing up to keep libraries free of censorship, and strengthening equity in school boards and PTOs. It was hard not to feel overwhelmed last year, but when you see the forest for the trees, things feel a lot more hopeful.
Steph Perkins, Program Officer:
Last year was fraught with anti-LGBTQ efforts, particularly targeting transgender youth. And yet, even with the backdrop of these attacks, there was still progress! Three more states – Florida, Kentucky, and Ohio – applied the U.S. Supreme Court's ruling in Bostock v. Clayton County to their nondiscrimination laws, ensuring LGBTQ people are protected from discrimination in employment at both the state and federal level. And the harmful practice of conversion therapy was restricted by governors in three more states, Michigan, Minnesota, and Wisconsin. These wins maintain my hope and optimism in these challenging times.
Owen Loftus, Senior Program Officer:
Throughout last year, I was heartened by the countless clergy members and lay people of faith who boldly took a stance for LGBTQ equality and against discrimination. Our movement faces significant challenges in 2022, but we also have many new opportunities before us. Our friends from these faith communities will remain an important source of hope and support as we continue our efforts to protect LGBTQ people from discrimination.
Jeff Criteser, Vice President of Partnerships:
Those who predict progress is impossible are often proven right. They find comfort in their cynicism and risk little in their position. The status quo is powerful and change is hard. At the Gill Foundation we surround ourselves with those who relish the challenge. We support risk takers who seek the urgent changes needed to advance LGBTQ equality. We fear failure less than missing an opportunity to win. In 2022, I look forward to continuing to get caught trying.
Heidi Overbeck, Chief Strategy Officer:
Despite the growing force and impact of polarization, last year underscored how critical it is to build bridges with unlikely allies and to encourage people along their journeys to acceptance, no matter where in that journey they might be. From the brave testimony of a Missouri father of a transgender child, to the emotional comments from Utah Gov. Spencer Cox about transgender kids, to the change of heart that Congresswoman Liz Cheney shared on national television – we saw repeatedly that LGBTQ rights are not a partisan issue, and if we seek to advance equality, we must not treat it as such. In the last year, I saw the truth and power of one of my favorite Tim Gill sayings: "The world is made of our friends and future friends." Here's to making more friends in 2022.
So we continue to look forward, to learn from our defeats and turn them to victories. In the new year, just like we've always done, we will hone our strategies to a keener edge, forge the path of progress, and never lose sight of the goal: equality for all Americans, no matter who they are or whom they love.