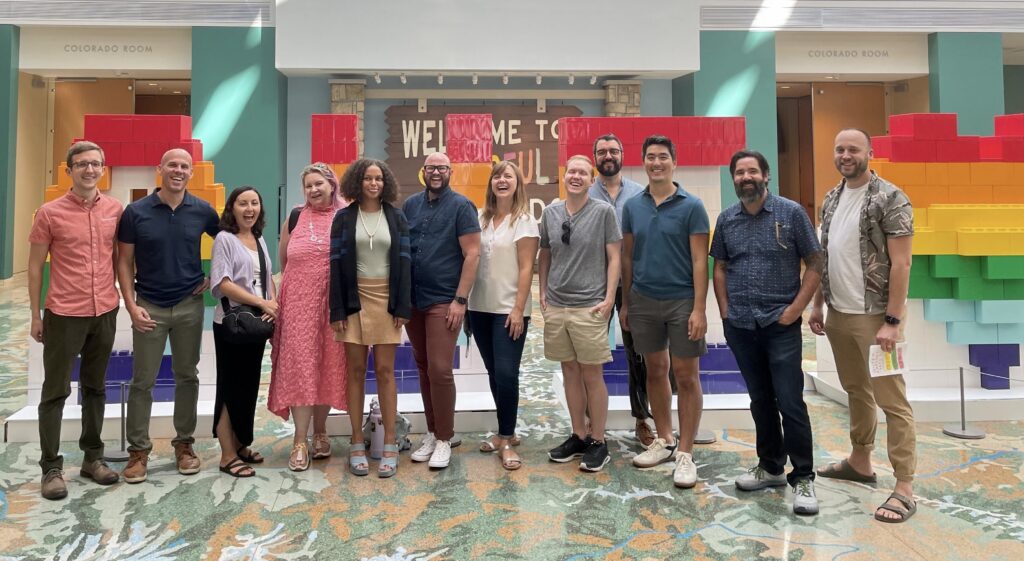 Brad Clark, President & CEO:
Growing up in small town Iowa, to me the holidays always represented communities coming together around a common set of values: family, faith, and building bridges. This holiday season, I see these same values at the heart of the incredible victory the LGBTQ movement achieved in the Respect for Marriage Act.
For decades, LGBTQ families have told their stories and shown their communities that "love is love." Like everyone, LGBTQ couples and families want to share their lives, celebrate their love, and receive the protections that marriage affords. This message has clearly resonated. In 1996, 27% of Americans supported marriage equality. This year that number is 71%, including a majority of Republicans and people of faith.
For many Americans, faith was once the grounds for opposition to marriage equality. However, as more faith leaders and advocates found harmony between their religious values and their support for equality, more and more people of faith came to support marriage equality because of their faith, not in spite of it. Last month this point was underscored by a statement from the LDS Church in support of the Respect for Marriage Act – just weeks ahead of its passage.
This holiday season we saw a victory not just for LGBTQ equality, but for our country's ability to build bridges and find common ground in our shared values. Let's continue to draw on our shared values as we kick off our work in 2023.
Cameron Hill, Senior Development Officer:
Despite a difficult year marked by violence and hate, I am heartened to know that our community has allies all over. People across the country and across the political spectrum helped us take critical steps to protect hard-fought victories this year. In 2023, I look forward to continuing to work with these allies to defend against anti-LGBTQ rhetoric and policies and to make progress wherever possible.
Karis Agnew, Grants Manager:
For me, the highlight of 2022 was witnessing our LGBTQ movement's sense of strength and resolve. Although anti-LGBTQ efforts and rhetoric permeated much of our country this year, our grantees faced these challenges head on, finding opportunities for hope and progress at every turn. I feel honored to support our grantees who countered these anti-LGBTQ attacks with a collaborative approach – sharing support, strategies, and lessons learned – so we can all move into 2023 with the strength to achieve lasting progress.
Michael Dabbs, Senior Communications Officer:
In a rollercoaster year, I was reminded once again of the strength and tenacity of family. A mom from Texas bringing a crowd of Hollywood celebrities to stunned silence – followed by a standing ovation – with the story of her family's fight for her transgender son. A glance at a full social calendar at the Edie Windsor SAGE Center for LGBTQ elders in New York City. The resilience of a community coming together after another senseless act of violence. The jubilee of protecting more than 700,000 LGBTQ marriages and families in federal law. As we welcome 2023, here's to family – in all of its forms.
Owen Loftus, Senior Program Officer:
Over the past year, I've been encouraged by the continuing leadership of faith organizations like New Ways Ministry in creating more inclusive religious institutions. In 2021, New Ways Ministry published "A Home For All: A Catholic Call for LGBTQ Non-Discrimination." In 2022, they amplified this call by circulating their writings throughout the Catholic community and organizing meetings with clergy and leaders of Catholic organizations. Their message has reached cardinals, bishops, and even Pope Francis – meaningfully influencing the trajectory of LGBTQ inclusion in the Church. I can't wait to see how they carry this work forward in 2023.
Steph Perkins, Program Officer:
In the face of the biggest wave of anti-LGBTQ legislation in history, I'm so inspired by the leadership and collaboration I've seen this year across the many states that have experienced these challenges and setbacks. Opponents of LGBTQ equality have grown increasingly cruel and creative in their attacks – and state leaders are responding with speed, resourcefulness, and perseverance. As I witness the coordination and knowledge-sharing that's taking place across organizations and states, I know that together we will overcome this new wave of anti-LGBTQ attacks.
Nathan Kasai, Program Officer:
It's so inspiring to see our movement face huge challenges head on and enact historic progress to safeguard our families and communities. Watching the Respect for Marriage Act cross the finish line into law shows our movement's determination and commitment to continue making big changes for the better. Even when there is still so much more to do, reflecting back on the past year shows just how far we've come.
Kevin Gardner, Communications Manager:
What most inspired me this past year was witnessing people who disagree overcome their differences and accomplish important things together. We saw it in times of need – like in the aftermath of the Club Q shooting, when our community constructively debated how we can learn from past tragedies and provide thoughtful support to the victims in Colorado Springs. And we saw it in times of opportunity – like in the lead-up to the Respect for Marriage Act, when Republicans and Democrats found common ground in a united effort to advance equality for LGBTQ Americans. It's heartening to see that we can still come together with those who see the world differently and get big things done.
Heidi Overbeck, Chief Strategy Officer:
I will never forget waking up to a flurry of text messages and news alerts on Sunday, November 20, 2022, conveying the horrific news that a gunman had opened fire at Club Q in Colorado Springs, killing five people, wounding nearly two dozen more, and irrevocably shattering the hearts and sense of safety of countless others.
Local and state LGBTQ organizations like Inside Out Youth Services and One Colorado jumped into action immediately to triage needs. GLAAD staff were on the ground that evening to help corral the crush of media, protect victims from invasive inquiries, and prep spokespeople who could connect the dots between anti-LGBTQ rhetoric and violence. Our partners in Florida reached out right away to share resources and lessons learned in the aftermath of the Pulse shooting six years prior. And the foundation's own Denise Whinnen, who lives in Colorado Springs, was out the door the moment she got word to help stitch together response efforts, making connections among community leaders, frontline responders, and philanthropy.
Though this tragedy demonstrates the hate we're up against – and the loss and grief this community endures far too regularly – the response of our grantees, team, and Colorado community exemplifies the resilience, compassion, and perseverance that are hallmarks of the movement for LGBTQ equality.
Denise Whinnen, Director of Colorado Programs:
The repeated crack of gunfire shattered so many lives in a single moment shortly before midnight on November 19 at Club Q. An affirming place of refuge is forever changed for the LGBTQ community in Colorado Springs. Families have an empty chair at holiday gatherings while others are left to endure the mental and emotional aftershocks of such a horrific event. The suspect has been charged with 305 criminal counts, including 40 bias-motivated (hate crime) charges.
Just a few weeks later on December 12, the FBI released its 2021 Hate Crime Report, revealing the highest number of hate crimes ever recorded in a single year for Colorado. Race, sexual orientation, religion, and gender identity are the most targeted characteristics for harm. While the FBI report is a helpful snapshot, it is not the full picture of what is happening in Colorado. This year, Hate Free Colorado conducted the first statewide survey to assess hate crimes in Colorado. Nearly 3 in 10 survey participants ages 18+, or an estimated 1.25 million Coloradans, said they were targeted with verbal harassment, property damage, and/or physical injury within the last five years. Still, only 18 percent reported the incident to law enforcement.
Our families, friends, and neighbors do not feel safe in our communities. In the aftermath of Club Q and the Hate Free Colorado report, there is a palpable sense of urgency to change this condition. Communities across Colorado, especially in Colorado Springs, are pulling together to demand change. Our partners are convening community conversations within populations impacted by hate crimes. Institutional leaders and elected officials are coming to the table to discuss systems change. Philanthropic organizations and individual donors are stepping up to support this work.
No one expected to end 2022 at such a low point. But Coloradans are resilient and full of grit and determination. We look to 2023 with hope. As I said a year ago, when times get tough, Coloradans pull together. We won't allow hate to define us. Despite it all, love and hope endure.